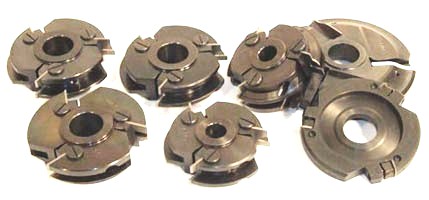 Oella Saw sells new and used insert tooling for cabinet making from 5 major manufacturers. Freeborn, Nap Gladu, Leitz ,Byrd and CGG Schmidt & Company.  Products include Stile and Rail cutters, Panel Raise cutters, Door Edge cutters and optional bushings, spacers, and rub collars. Each has its advantages and price points.
Byrd Tooling keeps  the design of their tools simple for ease of maintenance, better functionality, and cost effectiveness. Being one of, if not the first, domestic manufacturer of insert tooling, they have a proven design with thousands of tools in use today.  CGG Schmidt & Co. , a proven leader in the industry since 1926 has the experience and produces superior tooling. Schmidt also has short lead times resulting in quick turnaround.  Freeborn is also a favorite of Oella Saw. Freeborn stocks most of its common patterns.
Oella Saw can also manufacture a large number of custom tools to meet your specific need. If you have an insert profile that you use often, let us quote, our low overhead and CNC machines offer you accurate inserts at a lower cost, typically 6 is the min order for custom ground inserts.  We only use German Carbide blanks, the finest carbide in the world!

Showing 1 to 5 of 5 (1 Pages)