14 x 14 x 2 carbide insert for tough applications by Ceratizit. Made in Europe.
One of our best sellers, used in many cutter heads,
14mm x 14mm x 2mm - 4 Cutting Edges : square on all 4 sides with sharp points
This is the carbide blend that matches closely to the older Ctopp grade, a favorite grade for those milling rougher wood.
Grade KCR18+, great all around grade of carbide, slightly better performance than Hc05, very good on both Hardwood and Softwood, Less Optimal for MDF,HDF Chipboard
The performance benefits reduce the frequency of tool changes and optimize the overall efficiency. Upgrading to the new KCR08 standard is simple: any existing HC05 reversible knife or profile blank can now be converted to KCR18+.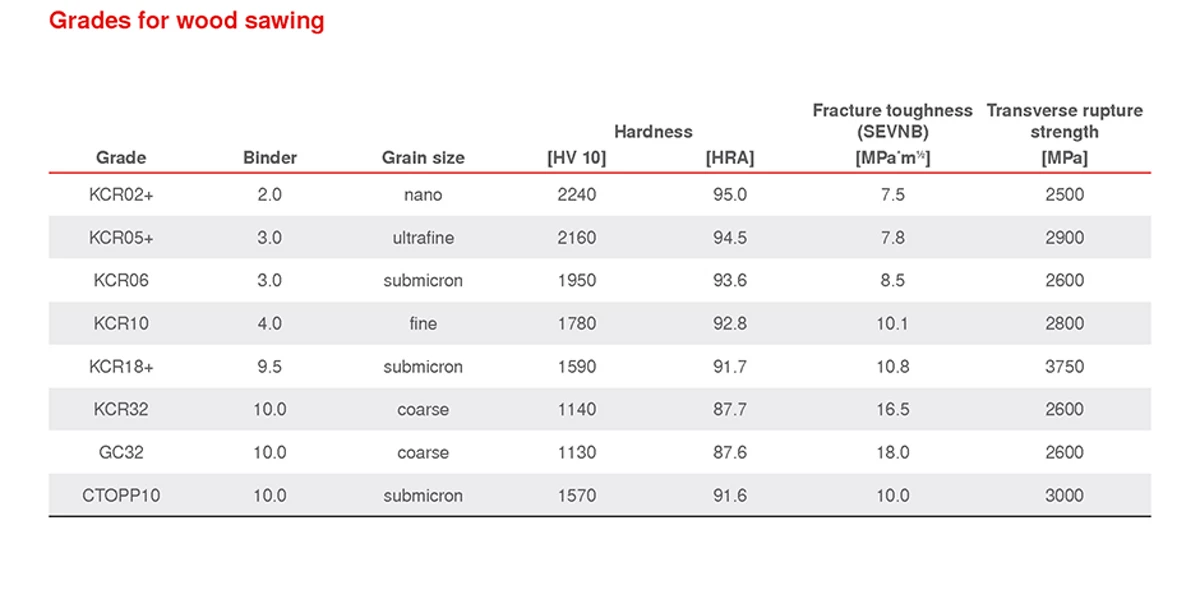 Perfect match H7319
Same insert as CMT 790.140.00 Carbide Knives 14x14x2
(fits many rebate spurs, certain spiral heads can use this size including Woodstock and Grizzly Spiral heads, please ask before ordering if unsure If your Grizzly spiral has a JT, this will not fit. We stock the JT replacement knives. )
Holes 1 : 6.5mm
Bevel: 30 degree

Sold in packs of 10 only

Plastic Case included
Made in the European Union
Grizzly Models which use this insert:
H7653 6" Spiral Cutterhead REQUIRES 34
H7654 8" Spiral Cutterhead REQUIRES 40
H7655 15" Spiral Cutterhead REQUIRES 72
H7656 20" Spiral Cutterhead REQUIRES 96
G1033ZX 20" Planer w/Spiral Cutterhead REQUIRES 96
G4815 20" Jointer w/Spiral Cutterhead REQUIRES 140
G9740Z 20" Planer w/Spiral Cutterhead REQUIRES 144
G9859Z 8" Z Series Jointer w/Spiral Cutterhead REQUIRES 60
G9860ZX 12" Z Series Jointer w/Spiral Cutterhead REQUIRES 84
G9953ZX 16" Z Series Jointer w/Spiral Cutterhead REQUIRES 120
G9953ZXF 16" Z Series Jointer w/Spiral Cutterhead REQUIRES 120
G9961 24" Planer w/Spiral Cutterhead REQUIRES 162
G9967Z 20" Planer w/Spiral Cutterhead REQUIRES 144
G1033X V1 20" Planer w/Spiral (Manuf 6/07 & before) REQUIRES 96
G0634 12" Planer/Jointer w/Spiral Cutterhead REQUIRES 56
G0526 6" Anvsy Edition Jointer w/Spiral Cutterhead REQUIRES 34
G0543 8" Jointer w/Spiral Cutterhead REQUIRES 40
G0544 20" Planer w/Spiral Cutterhead REQUIRES 96
G0480 V1 10" Jointer w/Spiral Cutterhead REQUIRES 48
Grain size:
Submicron grain 0.5 - < 0.8 μm
Transverse rupture strength:
3750MPa
Hardness:
1590HV10
Fracture toughness K
1
C:
10.8MPa.m
1/2