Profile Catalog
Profile Catalog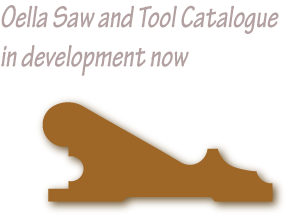 We specialize in custom moulding knives
for Weinig ,Woodmaster, Williams and Hussey, Shop Fox,
Powermatic, Jet, RBI, SCMi, Wadkin, Kentwood, Leadermac, and Grizzly moulders.
Oella's Custom Grinding Service offers product layout, template and knife production by Weinig trained technicians. We offer axial constant of 10mm (weinig etc) or 1/4" for scmi and wadkin moulders, which can reduce setup time by 50% on any throughfeed moulder.

Lead Time
Lead time for custom or stock ground knives & templates is typically 1-2 days from the time of order confirmation. Templates have a 24 hour turn around from the time of order confirmation.

Oella Saw & Tool Grinding Service
500 Oella Ave
Ellicott City MD 21043
Phone: 1-877-337-0402
Fax: 1-410-220-5424
Email: dave@oellasawandtool.com